At times we are compensated for the links you click at no cost to you. Learn more about why you should trust our reviews and view our disclosure page.
---
If you're looking for a new bed frame, then you know that brands don't make it easy to find how much weight they can hold. This obviously makes the shopping process extremely difficult. Our team of sleep experts tested out different models from all of the leading brands to determine the standard bed frame weight limit.
---
How Much Weight Can a Bed Frame Hold?
A standard bed frame can hold up to 500 pounds of evenly distributed weight. A wooden daybed has the same capacity. Weight ratings for heavy-duty steel models range from 1,000 to 5,000 pounds, while a loft bed is set high from the ground, and therefore has a lower load capacity, usually around 220 pounds. The same goes for a bunk bed. Children's or junior-sized beds usually support 150-220 pounds. 
Bed frame reviews indicate that obese individuals and couples need a bed frame with a minimum weight capacity of 500 pounds. The right frame for you, your mattress, and your sleeping partner can make a lot of difference. After all, the support depends on the design and construction as well as the materials.
Average weight limits of different bed sizes
A bed frame size matches the size of the mattress. A larger frame can take more weight, partly because it's made to support a heavier mattress, and partly because it's supposed to support more people. Twin, Twin XL, and Full have a weight limit of 300-600 pounds. The Queen size is 600 pounds and above, while the King and California king range between 800-4000 pounds.
King-size beds are the most supportive if crafted from solid wood or durable steel. If you're tall and overweight, Queen and bigger sizes are the best bed frames for heavyweight sleepers and couples.
Junior beds can support 150-220 pounds. Loft beds for adults are between 250-600 pounds in weight capacity. These beds are sturdy with lots of bed storage underneath.
The bed frame weight limit includes mattress weight, so when deciding on a weight limit, consider your sleeping partner's and your body weight as something your frame has to handle.
A mattress adds a lot of weight
The weight of a mattress depends on the size and material. You can find the mattress weight in the manufacturer's specifications.
The average mattress weight is between 50 and 150 pounds. Innerspring and memory foam mattresses are lighter, but King-size latex mattresses may reach the weight of 180 pounds and even more.
So if your sleeping partner and you own a King-size mattress and your overall body weight exceeds 300 pounds, you should consider a frame that can hold over 500 pounds of combined weight. If you want a lighter option, you may choose between a memory foam mattress and an innerspring mattress.
---
Wooden Bed Frame Weight Limit
Most wooden bed frames have a weight limit of about 500 pounds. Platform beds may hold up to about 900 pounds, and some beds made of plywood could have a weight capacity of as little as 200 pounds. Wooden box springs have a 300-pound capacity, and the best types may hold up to 450 pounds.
Many of these frames come with wooden slats. Bed slats can handle a large amount of weight pressure and give you a good amount of support. If you decide to get a bed frame with horizontal slats, be sure that they are not too wide apart. Vertical slats are much less common, but they are also reliable.
If you are a heavy person and want a wooden frame, you may opt for a platform bed frame. Due to their ability to support more weight, platform beds are more comfortable for heavy people, plus they are easier to get on and off since they are closer to the ground. Platform beds also support all mattress types, so you choose the mattress that fits your body type best.
If you're saving space in your apartment, you can get a Murphy bed, which has the weight capacity of a regular bed. A Murphy bed is an exotic version of a wooden bed frame. These beds are typically stored vertically or horizontally in a cabinet, closet, or against a wall, looking like a giant piano. The weight capacity of a twin-size Murphy bed is approximately 300 pounds, a Queen-size Murphy bed is 500 to 1000 pounds, and a King-size can exceed 1000 pounds.
If you want to get a sturdy bed frame, you may opt for solid wood as the most durable material. The legs of the frame should be stable and wide enough to balance weight and neutralize swaying and unwanted bed swinging. A reinforced leg structure provides additional support.
---
Metal Bed Frame Weight Limit
The metal frame weight limit varies widely from 250 to 5,000 pounds. Bed frames with steel construction and heavy-duty steel slats are known for their high weight capacity. Metal frames come in a variety of styles and prices.
Steel and iron bed frames are widely known for their durability. Metal frames often contain polymer resin for additional strength. In addition, polymer resin dampens sound and resin-coated surfaces reduce the sharpness of the edges.
Wrought iron can be shaped into different types of decorative metalwork without compromising its strength which is why it is widely used in bed frames. The most common weight limit for wrought iron bed frames is in the range of 600-800 pounds.
A metal platform bed is a flat base that supports weight without the need for a box spring. This frame can carry 600- 3,500 pounds and even more distributed weight.
Most bed frames come with heavy-duty steel slats. High-quality models are no-slip, noise-free, and no box spring is needed. Some of them come with a headboard or headboard brackets. The headboard helps evenly distribute the overall weight.
Some models are foldable and very practical as guest beds. They are also easy to store. Foldable metal frames have a lower weight limit than immobile ones. Most of these frames are 11 to 14 inches high, offering nice storage space underneath.
You may come across convertible steel frames online. These frames can convert in a range from Twin to California King sizes. Their weight limit is 600 pounds and above.
---
Heavy-Duty Bed Frame Weight Max
Bed frames with a weight limit between 2,000-5,000 pounds are considered heavy-duty. About 5,000 pounds of weight is probably the most you'll be able to find for a normal-sized bed and is made by a US company Knickerbocker. Their support system is called emBrace.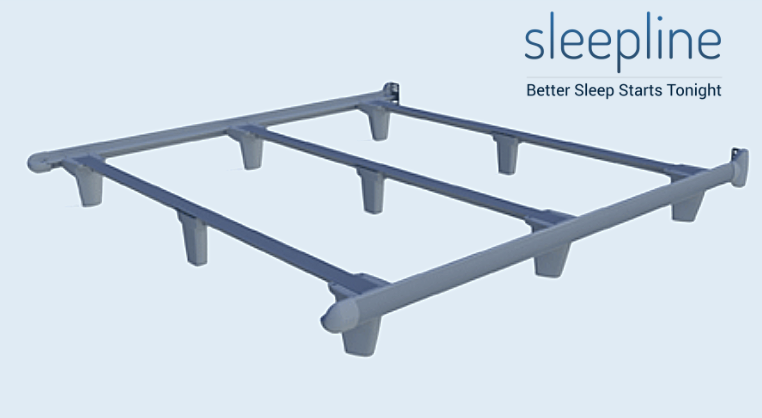 However, this bed frame might be way too strong even for really heavy people, so unless you're extremely heavy, you'll need one of the other heavy-duty frames, such as the Purple Bed Frame which can take up to 2,000 lbs.
These are the best bed frames for heavy people and couples, or for families who co-sleep. They are made of steel and if you have vinyl or hardwood floors under the bed frame, ensure that the legs don't damage soft flooring. 
---
How do I know what weight capacity bed frame I need?
To find the best bed frame with appropriate weight capacity, you should add up the mattress weight, and your and your sleeping partner's weight. If you want to be precise, add the weight of all bedding, including blankets, pillows, and the topper.
If you are average-weight and sleep alone, everything around 250-600 pounds weight capacity should be good for you. If you own a heavy mattress, you may opt for 600-1,000 pounds of weight capacity. An affordable bed frame for a heavy person or couple can support 1,000 pounds or more.
These frames usually come with steel construction and heavy-duty steel slats. They are capable of carrying extra weight. If you have kids or pets that like to jump on your bed, these frames for heavy people will do the job.
The frame weight limit mirrors its price. More durable bed frames are more expensive, and the sturdiest bed frames are from solid wood or heavy-duty metal. Metal frames are usually less expensive ones.
The price depends on design and material, and the range is from 200 to 2,000 USD. Adjustable bed frames are among the most expensive ones. Other things people consider are the bed frame's height and under-bed storage.
---
Frequently Asked Questions
What type of bed frame is the best for heavy people?
Heavy-duty bed frames can reach a 5,000-pound weight capacity, and if you and your sleeping partner are overweight, you may be sure that these frames will carry you and your mattress without any problems. These are almost always made of metal and aren't very tall because the structure also adds sturdiness. Overweight sleepers tend to lower beds because it makes getting in and out easier.
How strict are weight limits on beds?
Don't play with the weight limit of your bed – it can probably take more weight than stated by the manufacturer, but you never know. Also, steady weight pressure isn't the same as a person who rolls around and moves. Pushing your bed's weight boundaries may result in permanent damage. Exceeding the limit is likely to cause folding or breaking. The bed frame may produce an unpleasant squeaking sound under too much pressure which may interfere with your sleep.
How can I make my bed frame hold more weight?
Tighten bed screws and make sure nothing is loose. Reconnect any joints if they are separated. If you have a basic run-of-the-mill bed frame without slats, you should add some slats or a slatted base which may be an additional cost. You can drill holes and place extra legs to get more support. If you can't accomplish a higher weight capacity, consider buying a new bed frame.
---
Related product reviews:
Psst… the sleep review industry is full of liars, sharks, and thieves. It's a modern-day version of getting ripped off at your local mattress store. So, why should you trust us?